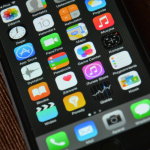 I learned a very big lesson yesterday. Well it wasn't a new lesson, I was aware of it already and in fact it's something that I speak about quite regularly with my clients but yesterday, when I experienced it, it felt like a new lesson!
The background is that last week I had a problem with my Oi-Phone – the problem – it died and wouldn't charge. I took it to the local phone shop where I had bought it and they said that they would have to send it for inspection and a decision on whether it should be replaced.
Anyway I popped in on Monday for an update only to be told that the said phone had evidence of water damage on the sensors and I could happily have a new one if I forked out €180! It was a bit of a shocker to be honest and, in a display of self control that my children would be proud of (default response is letting a roar at them!), I said that I would think about it and be back tomorrow. I left in search of a stray cat that I could kick!
Well I pondered my next move. I was incensed at the injustice as I was certain that I had done nothing to cause this problem whether it be dropping it down the loo or bringing it into the shower or even taking a call in the rain as one of the shop assistants would later suggest! I was determined that I was going to get a replacement, new or otherwise, and sought the advice of the sages of Twitter. Well actually, I mentioned the problem to a couple of people and then lots of kind Twitterati rowed in with suggestions and links to websites referring to there being a known issue of oversensitive sensors to the case of some woman taking a class action lawsuit against the manufacturer for refusing to budge on its void warranty policy in the case of dampness!
Armed with this information and resolve (and support of my followers – in fact it felt like a true Quest!), together with a determination to 'right this wrong' and a clear image of me getting a new phone engrained in my imagination, I set out for that well known town centre in South Dublin to fight this battle. I had strategies referring to the Sale of Goods Act, known problems with water sensors and even a 'not fit for purpose' argument prepared in advance, I was ready!
The initial exchanges with a bright male assistant were of the 'sparring variety' but once he realised that the 'did you have it out in the rain?' line didn't wash, he pressed the equivalent of the under-counter panic button to summon his boss! Round 2 began with the standard manufacturer policy on damp sensors being trotted out, it didn't get anywhere, I retorted with that being an issue between manufacturer and retailer and my contract under the Sale of Goods Act was with the retailer (I knew that Foundation Law class that I studied, when doing Accountancy, in 1982 would come in useful sometime!). I had him. I added the bit about the class action lawsuit in the US and he was reaching for the phone to call the repair shop! Yesss!
He asked if I would take a refurbished one instead of mine being repaired, I said yes. But it was just a test, he returned to say that he had approved a replacement for me and it would be in on Thursday. I wanted to hug him but he looked like he would withdraw the offer if I did that. I wanted to hug myself and go …Yessss … but thought better of that too! I shook his hand, he wasn't sure what to do… I left, briskly but managing to stop myself doing a little skip!
And so, with that little victory, what did I learn or relearn? Well I learned that if you really, really want something and you are fired up by a passion to succeed (in this case my passion to correct this unfair treatment) then you will not be swayed from getting it. And particularly if you stumble at the first or second hurdle or meet an unexpected obstacle, instead of lying down in defeat, to go again with another strategy, another route until you succeed in getting what you want.
It reminded me of the words in Paulo Coelho's masterpiece, 'The Alchemist', where it says;"And, when you want something, all the universe conspires in helping you to achieve it."
Indeed the thought struck me after sharing my little success with my Twitter friends, 'When was the last time that I was this focussed and passionate about trying to achieve something?' The sad truth is, like a lot of people, probably not in quite a while! So perhaps I have learned this lesson again, just in time! And if I can take that determination and passion and harness it for good in other areas of my life then perhaps I have something to thank my Oi-Phone for! I wonder do they have an App for that?